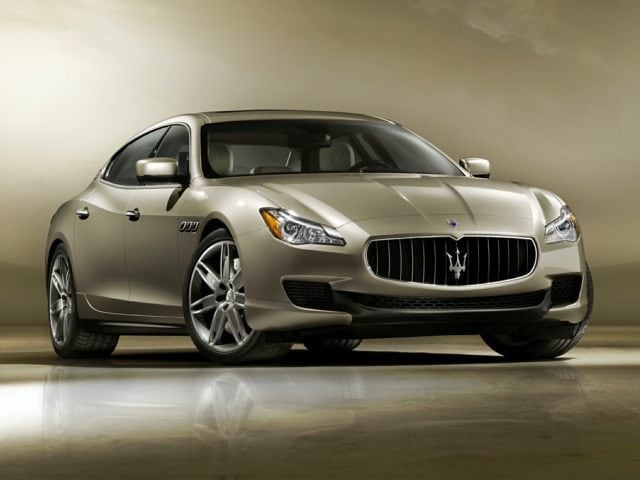 See How the Maserati Quattroporte Stands Up to the Competition
While many may attempt it, there are few brands that deliver the level of luxury and performance you'll find in a Maserati. Year after year, Maserati produces beautifully crafted world-class automobiles that outperform their predecessors and offer even higher levels of craftsmanship and capabilities. The new Maserati Quattroporte continues with this great tradition with a model that puts its competitors to shame, including the BMW 7 Series and Porsche Panamera; we think you'll find that these worthy adversaries simply can't compete with this impeccably designed legend of the road.
Maserati Quattroporte vs. BMW 7 Series
You may notice a difference in price when exploring these two vehicles; let us assure you that you get what you pay for with the Maserati Quattroporte's exhilarating performance and astoundingly luxurious interior that put the BMW 7 Series to shame.

While the BMW 7 Series offers a commendable option, there's simply no comparison to the Quattroporte's world class performance and sophisticated luxury. Two new trim levels are available on the Quattroporte, the GranLusso, and the GranSport. Both trims place a premium on the highest quality materials such as Ermenegildo Zegna silk fabric and Radica Wood trim on the GranLusso, and piano-black trim enhanced with carbon fiber and leather on the GranSport - neither of which is available on the BMW 7 Series.
Drivers have come to expect exceptional performance from the Maserati name, and the Quattroporte delivers. With a 410-horsepower 3.0-liter twin-turbo V-6 paired with a dynamic eight-speed automatic transmission, the Quattroporte offers thrilling driving experience taking you from zero to 60 mph in a mere 5.0 seconds and with a heart-pounding top speed of 177 mph. The BMW 7 Series can't hold a candle to that with a mere 320-horsepower 3.0-liter TwinPower Turbo inline-6.
Maserati Quattroporte vs. Porsche Panamera
The Porsche Panamera is a fine automobile in its own right, but once again, is easily outperformed by the remarkable Maserati Quattroporte.

The Quattroporte offers more comfort from the get-go, with a larger footprint and more interior space to spread out and enjoy the sumptuous luxury. 
Performance is always at the forefront of design, and the new Quattroporte hides an all-new Air Shutter system behind up to 10 percent for enhanced performance. Of course, what's under the Maserati hood is a Ferrari-inspired engine, so it's hard to beat that kind of performance DNA.
The Quattroporte's luxury features outdo the Panamera, too, with standard features such as keyless entry and HD satellite radio that are only options on the Panamera. There's also nothing in the Porshe offerings that can compare to the incredible refinement of the GranLusso or GranSport trims.
While the Porsche Panamera is a strong contender, the Maserati Quattroporte ultimately offers greater comfort and performance all around.
See the Maserati Quattroporte at Rick Case Maserati in David, FL
When you're shopping for a world-class vehicle that offers state-of-the-art performance features and incredible luxury, there are only a few cars that fit the bill; the Porsche Panamera and the BMW 7 Series may attempt, but they simply can't touch the 2017 Maserati Quattroporte when it comes to styling, innovation, and performance.  Driving the streets of Miami, Davie, Weston, Fort Lauderdale, Aventura, Boca Raton is always a pleasure, but we know you'll enjoy it even more in the new Maserati Quattroporte. Stop by Rick Case Maserati for a test drive in this incomparable sedan today.