Maserati Levante Technology
Luxury has been taken to a whole new level with the all new- 2021 Maserati Levante.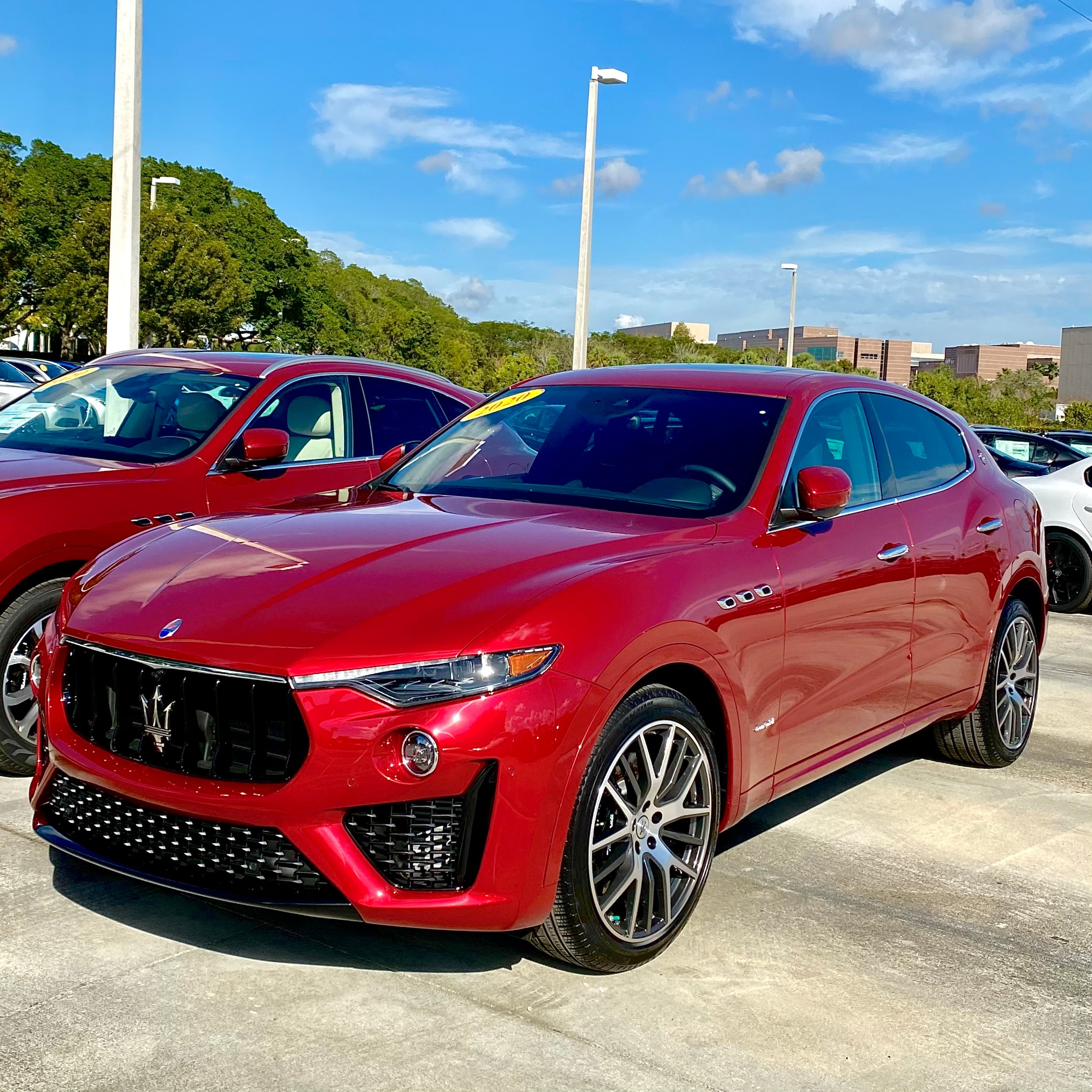 Luxury is at your fingertips with its 8.4 inch display. It's also equipped with a built-in navigation system, which is the perfect gadget for those that need help getting around. This top-of-the-line navigation system keeps you informed on the latest traffic updates!
Where are our music lovers? Are you a jazz fan? Hip hop? How about country? True music enthusiasts can't get through a car ride without playing the hits! Enjoy every aspect of your driving experience with your favorite tunes using either the built-in aux and USB ports, AM/FM radio, Bluetooth, Apple Car Play, or Android Auto. Are you a fan of Sirius XM Radio? Enjoy a 1-year trial that comes free with your purchase! All of this will be played in your 900-watt, 14-speaker Harman Kardon Premium Audio System, which is available in the Levante GranLusso, Gransport, GTS and Trofeo.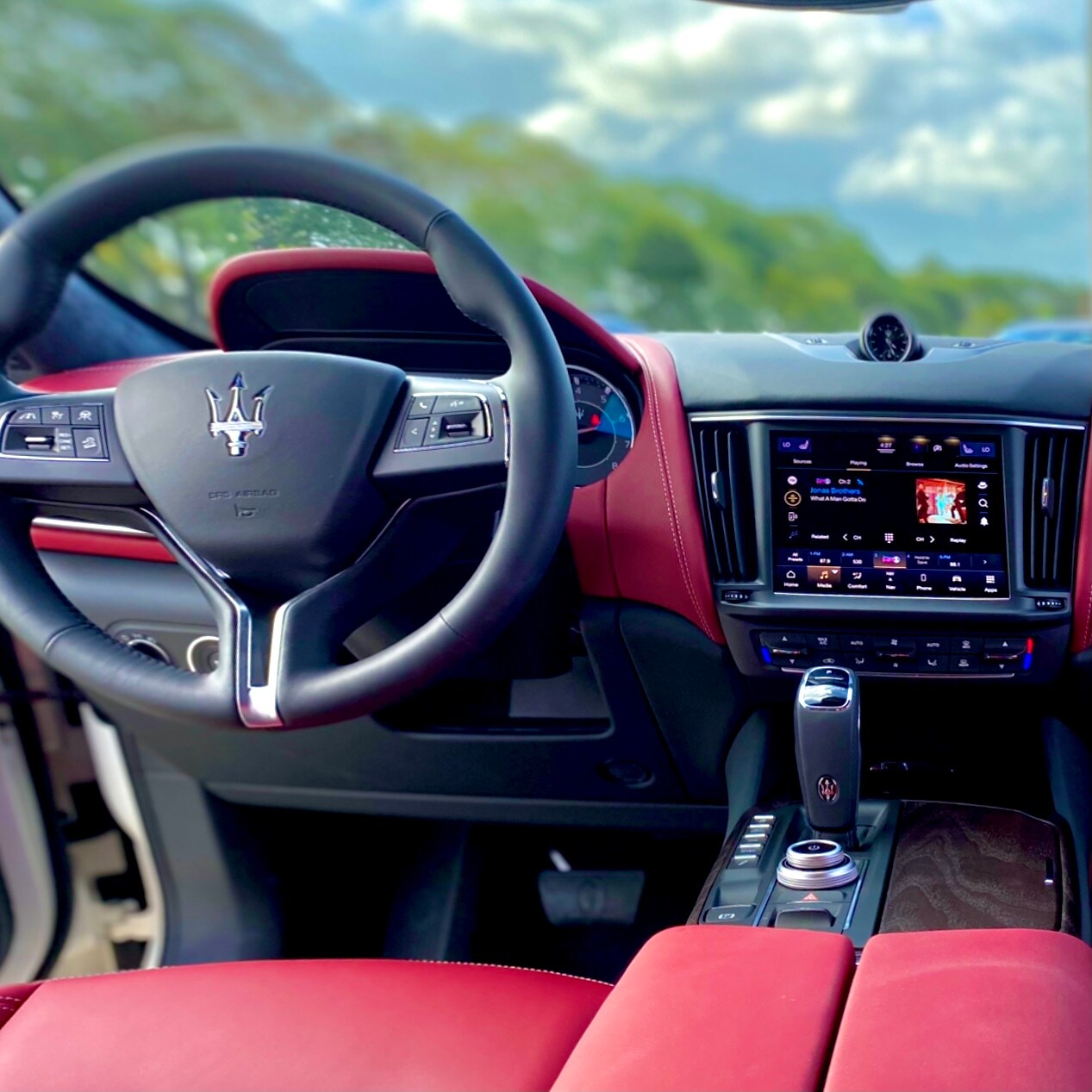 Come experience true luxury with a test drive. The Rick Case Maserati team can't wait to show you around and give you all the details on the 2021 Maserati Levante. Call us today and schedule your appointment or just meet us here when you're ready.
We'll be waiting…
ADDRESS: 3550 Weston Road, Davie, FL 33331
SALES: 954-320-7408
SERVICE: 954-361-8767
PARTS: 954-526-3445
                                Maserati Levante S Gransport Nuricimo Package
Italian, anyone? Let's discuss the hottest Italian luxury SUV, the 2021 Maserati Levante S Gransport and its "Nuricimo Package."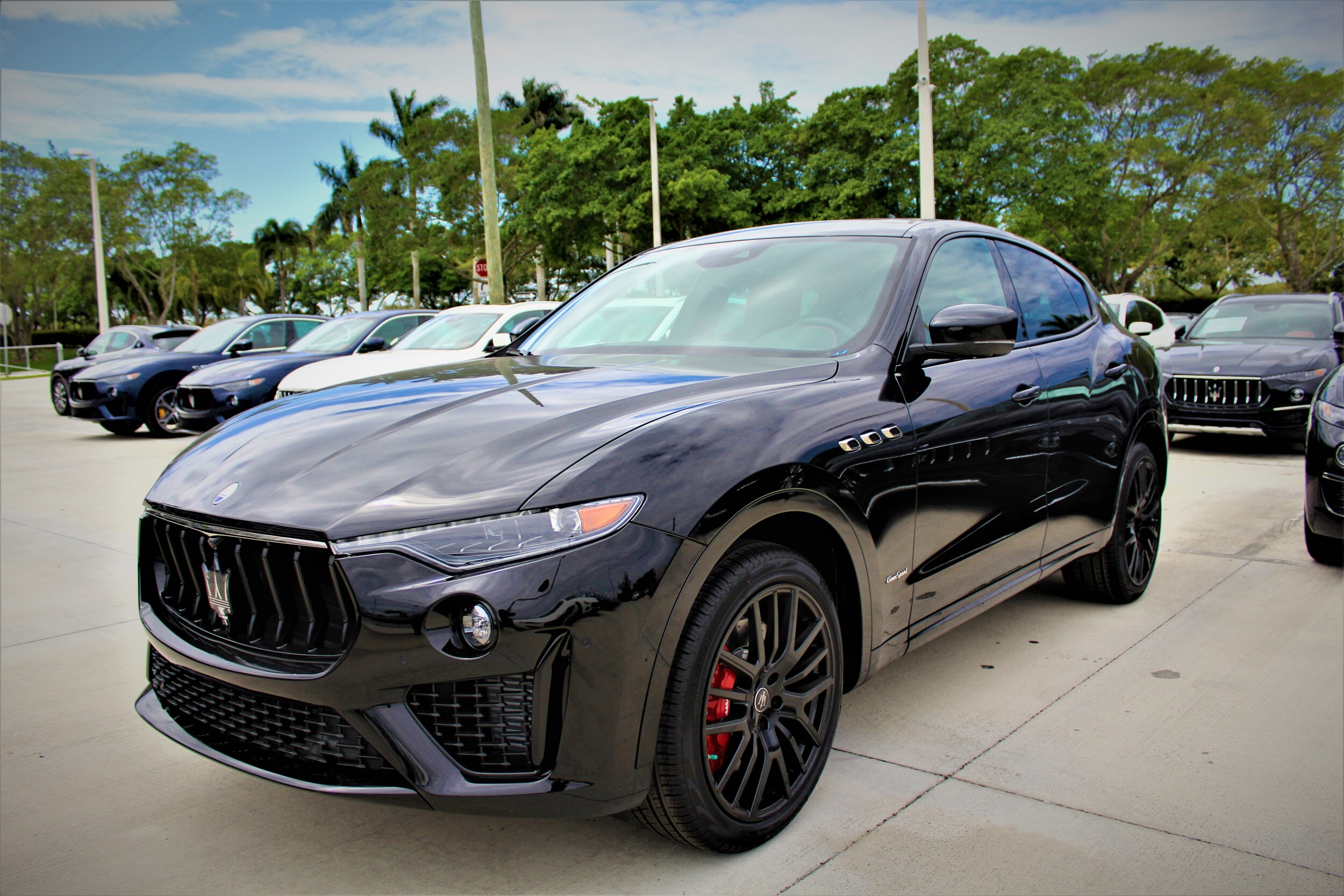 The first thing we're going to go over is the grille of the Levante. With the all black package it definitely looks more aggressive and sportier with the dark tint grille.
Another noticeable feature that the package enhances is the wheels. Of course they look amazing with the "Nuricimo" package, AKA the blacked out package. The blacked out rims definitely add that aggressive look to the car and really helps place emphasis on those features, making the car look super aggressive. These wheels measure a whopping 21 inches and also come with Brimbo brakes. The Calipers say "Maserati' on them, which is also a really cool addition. Not only are the wheels and the grille blacked out but so are the mirror caps, the trimming/lining of the windows, and the spoiler.
Towards the back of the vehicle are tail lamps that look a little different with the Nuricimo package! This black package gives you darkened, tinted tail lamps. Your exhaust pipes are also black, and so is your rear diffuser. The Maserati lettering on the back is also darkened, along with the logo, and the Q4 stamp.
 Words just don't do the Nuricimo package enough justice! You won't really be able to tell how amazing it is until you come in and see the car for yourself with a test drive from one of our Product Specialists. We are located on Weston Road here in Davie, Florida.
Check out the full video: Maserati Levante S Gransport Nerissimo Package
ADDRESS: 3550 Weston Road, Davie, FL 33331
SALES: 954-320-7408
SERVICE: 954-361-8767
PARTS: 954-526-3445
2021 Maserati Levante GranLusso Interior
The 2021 Maserati Levante GranLusso is a marvel of Italian design. With its aura of exclusivity, this refined ride will take your driving experience from 0 to 60 in seconds. The outside appearance of this luxury SUV has already brought you this far, imagine what the interior can do…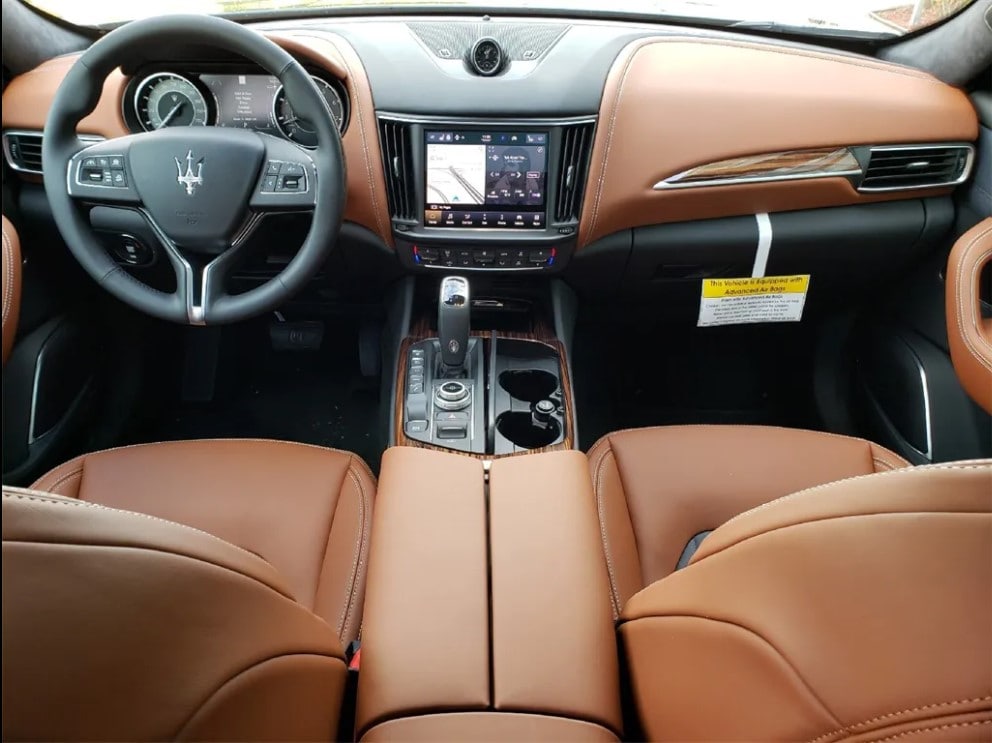 When you first get behind the wheel, you'll notice the sleek 8.4 inch HD touchscreen. Its presence alone makes for an unforgettable driving experience. With simple voice commands, this advanced infotainment suite can help you navigate, answer calls handsfree, and blast your favorite tunes!
You'll melt into the GranLusso sculpted, nero leather seats and contrasted stitching. They're equipped with 12-way power adjustment and memory, so every ride will be smooth sailing.
A sport steering wheel is a must, especially when you drive the hottest luxury SUV on the market. The Levante's power-adjustable sport steering wheel relieves your muscles, providing you with more endurance while driving. It also serves as a control panel with mounted audio controls, speed sensing, and memory steering! 
Performance will be the least of your worries with the Levante GranLusso! The brushed aluminum gearshift paddles and pedals, as well as the powerful, turbocharged 3.0L V-6 cylinder engine place this SUV in a class all its own.
We can go on and on about all the amazing things the GranLusso has to offer. Come and see for yourself with a free test drive from one of our Product Specialists.
ADDRESS: 3550 Weston Road, Davie, FL 33331
SALES: 954-320-7408
SERVICE: 954-361-8767
PARTS: 954-526-3445