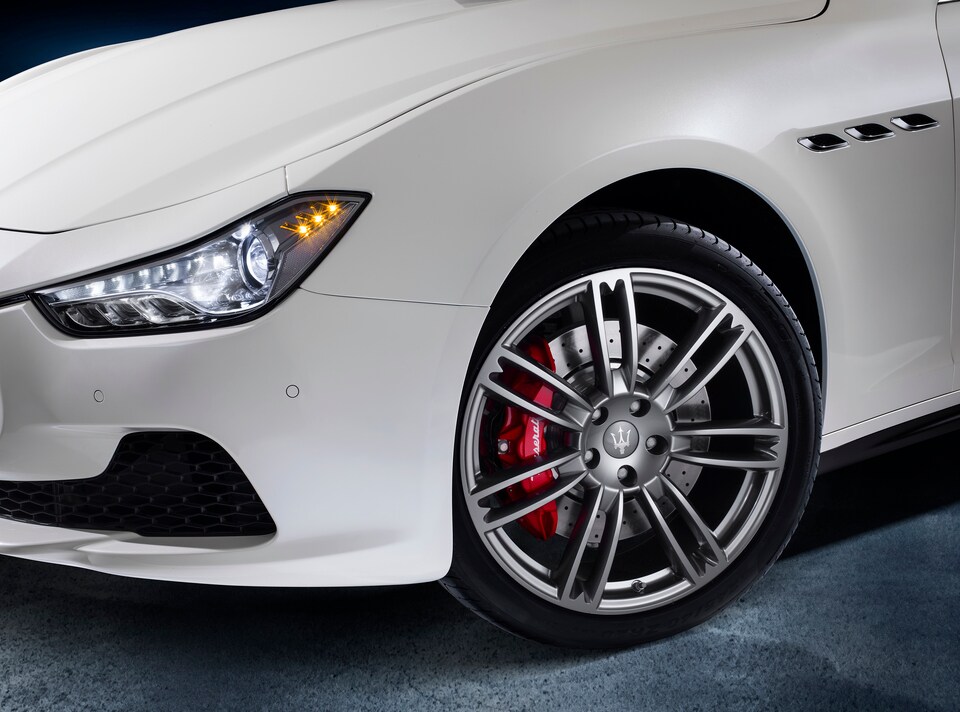 Take care of your Maserati luxury car with helpful maintenance tips from Rick Case Maserati
The Maserati brand name has always been synonymous with the highest tiers of opulence, Italian luxury, and automotive performance. That said, whether you fell in love the with the stunning Maserati Ghibli or the iconic Maserati Levante at our Davie, FL dealership, somewhere along the line you're going to have to think about Maserati maintenance and care. Fortunately, we're well-equipped to handle all your Maserati maintenance and repair needs here at Rick Case Maserati, but if you'd like to know a  bit more about what goes in to maintaining these unrivaled Italian luxury cars, we've put together a brief list of frequently asked  questions on our most common Maserati services.
Frequently Asked Questions About Maserati Tire Care
Why do Maserati tires need to be rotated?
Tires wear down overtime, but tires in different positions can wear more quickly depending on your driving habits and the weight distribution of your specific Maserati model.
To prevent uneven wear that could shorten your tires' usable lifespan, you should usually rotate your Maserati car's tires every time you have its oil changed. Luckily, when you bring your Maserati to our service center near Weston and Ft. Lauderdale, you'll find that a Maserati tire rotation takes just a few minutes, allowing you to get back on the road in no time at all.
How often should I replace the tires on my Maserati?
While you should rotate the tires on your Maserati regularly, you won't have to replace the tires very frequently. Only if you detect significant vibration in the steering column while driving around Boca Raton and Aventura or notice large cracks in the sidewalls of your tires should you immediately consider getting new tires for your Maserati.
While we'd be only too happy to test the wear of your Maserati car's tires here at our Davie, FL service center, you can easily do so at home with a simple method called the "Penny Test". By inserting a penny upside down into the well of your tires' tread, you can get a rough estimate of its wear. The tread should cover about the top half of Abraham Lincoln's head on the coin. And while less coverage is usually still okay, if you can see his whole head, it's a key indicator that your Maserati is due for a new set of tires.
With our years of experience in Maserati tire care and new Maserati tires sales, we can easily assist you with assessing the health of your tires here at Rick Case Maserati, so don't hesitate to set an appointment with our service concierge at your earliest convenience.
Frequently Asked Questions about Maserati Oil Changes
Why should I change the oil in my Maserati?
Like any car, engine oil in your Maserati keeps its engine cool, lubricated, and free buildup and corrosive debris, allowing it to deliver optimal power and performance as designed.
Over time, both the engine oil and the Maserati oil filter in your car will become saturated with buildup, making the oil thicker and less capable of lubricating critical components of your engine. If left unchanged for long enough, your Maserati vehicle's engine can be seriously damaged by heat and buildup, making regular oil changes absolutely imperative.
How frequently should I change the oil in my Maserati?
Maserati cars have always been renowned for their thrilling performance, but what many drivers may not know is that they're also very efficient with their engine oil usage. In fact, many newer Maserati models can go up to 10,000 miles between oil changes. However, it's best to check your owner's manual or consult with one of our service concierges to find the right oil change interval for your specific Maserati model based on your needs and driving habits here in the greater Weston and Miami, FL areas.
At our Maserati service center here in Davie, we can easily accommodate all your Maserati oil change needs with our comprehensive stock of genuine Maserati oil filters and premium synthetic oil approved for Maserati cars on hand.
Frequently Asked Questions about Maserati Brake Repair
Why should I worry about caring for my Maserati car's brakes?
Just as its engine and starter system are essential to getting your Maserati car going,
Small brake problems can quickly transform into big issues. So, if you want to spare yourself from costly brake repairs in the future, it's always a good bet to tackle minor brake maintenance issues as soon as they crop up.
What signs of Maserati brake issues should I look out for?
Often when your Maserati is experiencing brake issues, you'll hear it first. Squeaking and squealing sounds can often indicate that your Maserati car's brake pads are worn down, while harsh grinding noises, can mean that your brake calipers are making contact with your brake rotor. Still other issues like a sinking pedal and pulsing brakes can be indicative of either a leak in the brake hydraulic fluid system or a warped brake rotor respectively. These are just a few signs of Maserati brake issues but if you suspect there might be another problem, you owe it to yourself to pay us a visit at our Davie, FL service center as soon as possible.
From the simplest Maserati brake pad replacement to the most complex Maserati brake repair job, our talented team of Maserati technicians can easily offer you quick, comprehensive brake service to accommodate your every need. So, if your Maserati car is experiencing brake issues, don't hesitate to schedule your next service appointment with our service center near Miami and Weston at your earliest opportunity.